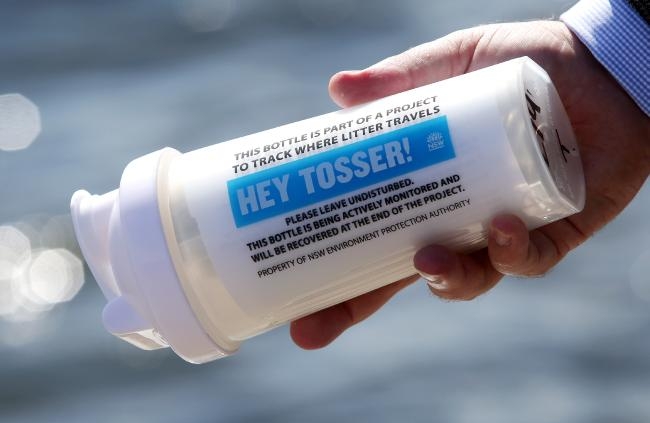 IT IS an age-old problem but new technology is helping to tackle the scourge of litter.
Three GPS trackers released into Brisbane Water have given a whole new meaning to the term "message in a bottle" as part of the state government's efforts to tackle littering.
The trio of bottles — all fitted out with GPS trackers — will show just how far litter can travel in the waterway.
The bottles are fitted with GPS trackers.
Terrigal state Liberal MP Adam Crouch released two bottles at Empire Bay Wharf and one bottle at Erina Creek as part of a statewide anti-?littering campaign.
The bottles will be tracked daily by the NSW Environment Protection Authority (EPA) over the next month with regular updates shared across social media to raise awareness about the distance litter travels.
Mr Crouch said the GPS tracking program worked hand-in-hand with the EPA's Autumn Hey Tosser! litter prevention blitz across the state.
"The biggest issue is storm water run-off — rubbish going down the stormwater drain and into our waterways," Mr Crouch told the Express Advocate.
"All it takes is for people to be mindful and spend the 30 seconds popping rubbish in the bin rather than drop it on the ground.
"The Hey Tosser program has been running since 2014 and has been very effective.
"I myself have dobbed people into the EPA, especially throwing cigarette butts out the car window.
"The reality is, people are becoming more aware and literally dobbing people in now."
The EPA can issue fines of $250 for an individual or $500 for a corporation for littering from a vehicle based on public reports.
Mr Crouch said the NSW Government was halfway to meeting its target of reducing litter volume by 40 per cent by 2020.
HEY TOSSER
About 25,000 tonnes of litter is tossed away in NSW each year, costing the state more than $180m to manage
To dob in a tosser to the Environment Protection Authority visit www.epa.nsw.gov.au/heytosser
https://www.myropegps.com/wp-content/uploads/2019/04/GPS-trackers-to-help-tackle-littering-problem.jpg
488
650
administrator
https://www.myropegps.com/wp-content/uploads/2018/10/logo2.png
administrator
2019-04-24 11:03:36
2020-06-04 11:03:56
GPS Trackers to Help Tackle Littering Problem