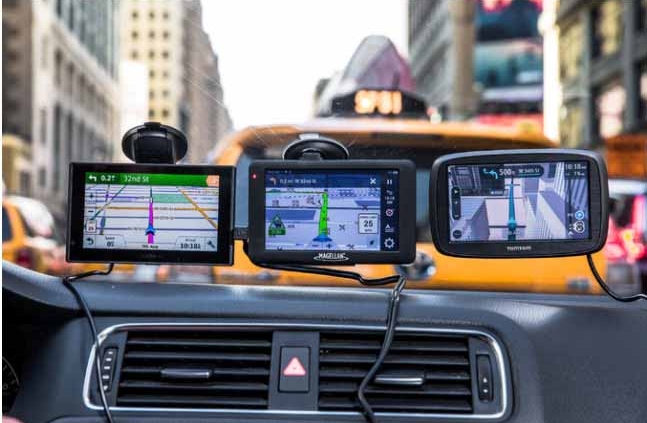 Rik Paul, the autos editor at The Wirecutter, testing GPS systems on the road. One big advantage a car GPS unit has over phone apps: It doesn't need a data connection to plot a route.
The smartphone has replaced so many other devices and tools — cameras, notebooks, tape recorders — that I thought the answer was obvious when I asked Rik Paul, the autos editor at The Wirecutter, a product reviews website owned by The New York Times, if buying a GPS unit for the car made sense anymore. Boy, was I wrong.
I rely on a cellphone with Google Maps to find my way around. Why would I ever want to buy a GPS unit?
The major maps apps are excellent, with awesome traffic information. If I'm going for a short jaunt around town, I'll always grab my phone. But for longer trips, especially, dedicated car-GPS devices have some advantages.
Like what?
One big advantage is that GPS devices don't rely on a data connection to plot a route. They have the map data stored inside. I've used my phone to navigate to a rural area — say, upstate Vermont — and since the app cached the original route, it got me there just fine. But when I went to navigate out, I didn't have a data connection. So, I was out of luck.
There are some apps that let you download the route and map information so you don't have that problem, but you have to plan ahead, whereas a GPS you keep in your glovebox is always ready to go.
OK, but what does a good GPS unit cost? Is it worth that much to avoid dead zones?
In our car GPS guide, we picked the Garmin Drive 51 LMT-S as the best for most people, which costs about $170. There are less expensive ones, about $100. So, yeah, it's an investment.
Still, having a GPS frees your phone for other uses, such as music or calls. And the latest GPS units are now multitasking in ways that a phone's navigation app can't.
While phone apps may offer better traffic information, advanced GPS units provide better onscreen directions, especially at tricky interchanges, and more precise voice directions.
For example, Garmin's entire Drive lineup can connect to a backup camera. And there are higher-end "combo models" that integrate a dash cam. Traditionally, a dash cam is primarily for keeping a record in case of an accident, but some of these new GPS models can also provide some pretty advanced safety features, such as forward-collision warnings, lane-departure alerts, and even the ability to automatically send a text if there's a crash.
Those are features we've come to expect from new cars, but up until now were difficult to find as aftermarket add-ons for older or more basic cars. These camera-based units don't work as well as an expensive built-in system with multiple sensors, but they're still handy features that can help combat distracted driving.
What about the color-coded roads on Google Maps that warn of delays? And the Waze app, which warns of the police and accidents ahead?
Phone apps definitely have better traffic information than GPS devices. That's partly why I will grab my phone for around-town jaunts. The accuracy of Google Maps traffic is awesome. My wife will be checking it as I'm driving and will say, right around this bend, it turns red. And sure enough, the traffic slows way down right at that spot.
GPS devices provide traffic warnings, and a lot of them also now connect to a phone via Bluetooth for "live traffic," but they don't measure up to Google or Waze in that regard.
The better GPS units have better onscreen directions, especially at tricky interchanges, and they have more precise voice directions. While most navigation systems say "Turn on such-and-such street." Garmins, for example, now say, "Turn at the traffic light" or even "at the red building." This landmark-type voice guidance makes it easier to find your turn, especially when it's not easy to see the street signs.
How do you test all the different GPS device models?
While we've compared the specs and features for more than 100 models, we've done three rounds of hands-on testing with about 20. Most of the nitty-gritty testing is done over weeks inside a car while we use the units for everyday driving.
At times, I have mounted three units on the windshield at once — one from each major brand — to see how they compare under the same circumstances. That's a challenge. I now record those sessions with a GoPro camera, so I can better keep my eyes on the road.
Globe market insights
Vehicle tracking market size can be segmented on the basis of solution, service, connectivity technology, and vertical. Global fleet management market size was valued at USD 8 billion in 2015 and is anticipated to exceed USD 22 billion by 2022, growing at a CAGR of over 20% from 2016 to 2023. It offers real-time location of each vehicle in the desired fleet. In addition, it also facilitates the customers to get used to new developments and make informed and smart decisions which in turn save cost.
Global vehicle tracking market combines software with automatic vehicle location in order to collect the fleet data for a complete picture of vehicle locations. These systems mainly employ Global Navigation Satellite System (GLONASS) or Global Positioning System (GPS) technology to locate and track the vehicle. The vehicle information can be observed on electronic maps with the help of Internet or other specialized software.
Tracking provides driving behavior information such as mileage, fuel consumption and speed of the vehicles. Real time data can assist with confirmation of delivery and allow users to supervise working-time guidelines conformity. Moreover, it precisely accounts hours spent and hours worked behind the wheel and also registers the past data of the vehicle. Savings can also be done by monitoring the driven route and speed. The aforementioned factors are expected to drive the industry demand over the forecast period.
Major solutions include operation management, asset management and driver management. By service, the industry can be segregated into professional services, integration & deployment services and managed services. Connectivity technology includes satellite GNSS and cellular system.
Government, manufacturing, transportation and logistics, retail, energy and utilities and construction are the key vertical segments. Manufacturing vehicle tracking market share was the largest vertical owing to increasing focus on maintaining separate fleet of vehicles.
Fleet management systems market facilitates in reducing the risks and costs associated with vehicle management, telematics and investment. It ensures conformity to regulations by diminishing CO2 emissions. Moreover, it tracks location and examines the driver behavior. Technologies such as sensors, Radio Frequency Identification (RFID) and GPS tracker are employed to monitor vehicles and fleet movement along with the fuel usage. It includes wide range of functions including operation management, driver management and asset management that helps manufacturers to efficiently operate and manage their fleets with minimum risk by providing real-time information. North America vehicle tracking market share is predicted to observe significant growth over the several upcoming years.
With mounting complexity of operations in logistics and transportation, key players are expected to limit the downtime of fleet and drivers which in turn surge the demand for robust fleet management services and solutions between constructions, mining and manufacturing sectors. Proliferating demand for operational efficiency is likely to surge the vehicle tracking market. Increasing fuel consumption, maintenance cost and accidents is anticipated to drive fleet management market size over the forecast period.
Rising demand for commercial vehicles in regions such as Latin America and Middle East and Africa (MEA) signify a potential growth opportunity. Moreover, integration of Internet of Things (IoT) technology with vehicles is expected to boost the adoption rate of tracking systems in developed regions such as Europe and North America. However, high cost involved in installation of these systems is anticipated to hamper the demand over the forecast period. Lack of consumer awareness is also likely to challenge the industry growth.
Asia Pacific vehicle tracking market size is anticipated to witness significant growth over the forecast period. This can be primarily attributed to rising demand from countries such as Japan, India and China. These emerging markets have high potential owing to the presence of large number of commercial vehicles. Latin America and Middle East & Africa are also forecast to witness moderate growth owing to growing adoption across various nations over the forecast period.
Key players accumulating major vehicle tracking market share include Nissan, Garmin, Trimble, AT&T, Cisco Systems, Fleetmatics, IBM, Verizon Communications, Tomtom and GE Capital. Other prominent industry participants are Davantel, Pointer, Navika, Huizhou Foryou, and Gasgoo.
GPS fitness device market size is anticipated to reach USD 3 billion by 2023, growing at a CAGR of around 15% from 2016 to 2023. The surge in the demand for these devices can be attributed to the rising health awareness among consumers for heart rate monitors as well as other wearable devices. The number of these devices is likely to reach 120 million units by 2023.
The industry is estimated to experience the spur in demand owing to increasing number of corporate wellness programs. In addition, healthcare providers are likely to prescribe these devices to their patients as a part of treatment to monitor health conditions; this might positively impact the industry over the forecast period. Since these dedicated devices are more suitable for various activities such as hiking, cycling, swimming, trekking, trail running and climbing, it is expected to drive the industry demand over the forecast period.
Features offered by these devices such as ease of use, better functionality and durability accompanied by affordable prices is estimated to propel the industry growth. Increasing demand from emerging markets is anticipated to furnish potential growth avenues to GPS fitness device market. The fitness device aids in monitoring real time fitness, sleep statics, heart rate monitoring, gym training, and also tracks and monitors user's daily activities to furnish with crucial health insights. These devices are attached to the user's body and perform functions similar to the smart phone or a tablet.
The GPS fitness device market size can be categorized into wearable device, smart watch, handheld device and smart glass. Changing consumer preferences and increasing demand for fitness devices from diverse age groups is likely to fuel the industry demand. GPS vendors are likely to face high sustenance challenge owing to lower pricing prospects offered by the manufacturers. Entry of new industry participants might pose pricing challenges to the existing players. However, drop in prices is expected to aid in attracting wider consumer base and is likely provide huge growth avenues over the forecast period. Factors such as low battery life and ability of connecting to only one smartphone are estimated to hamper the growth of the industry.
These devices are the combination of various sensors namely motion sensors, GPS, temperature, skin resistance, heart rate, rpm and cadence and pedal force. Motion sensors are mainly use for counting the number of steps taken and are very useful for basic fitness improvisation for all runners. GPS helps in tracking speed and amount of distance covered while travelling. It is mainly used by recreational athletes and professionals. Temperature sensors aids in monitoring the metabolism rate of the body. Skin resistance sensor helps in measuring the amount of sweat excreted by the user.
In addition, heart rate sensors are utilized to measure blood pressure as well as pulse rate during the workout and are mainly useful for recreational athletes as well as professionals. RPM and cadence are useful to retrieve precise biking speed and it is likely to benefit more to dedicated cyclists and tri-athletes. Pedal force sensor is used to measure the amount of force applied while pedalling the cycle and it furnishes with accurate power output data. These factors are responsible for the growth of tis industry over the next few years.
Asia Pacific GPS fitness device market size is anticipated to witness significant growth owing to rapidly upgrading healthcare infrastructure amenities and growing health consciousness in developing nations such as China, Taiwan, Korea and India. North America, especially the U.S. wearable device market, is expected to accumulate major industry share due to high patient alertness, advance healthcare technology and encouraging reimbursement policies.
https://www.myropegps.com/wp-content/uploads/2019/04/Reasons-Not-to-Dismiss-GPS-Devices-for-Your-Car.jpg
432
647
administrator
https://www.myropegps.com/wp-content/uploads/2018/10/logo2.png
administrator
2019-04-24 11:14:04
2020-06-04 10:51:55
Reasons Not to Dismiss GPS Devices for Your Car